For women like Sofonisba Anguissola (c. 1535-1625)—the eldest daughter of minor nobility in Cremona, Italy—the world was full of limitations. But Anguissola was both talented and lucky. With unusual encouragement and support from her parents, among others, plus her own grit, she became a famous and important artist in her time. Her remarkable skill, finesse and originality are on view in an exhibition in Madrid's Prado Museum through Feb. 2, especially in "The Chess Game" (1555), a work that is not only charming and witty but also inventive. Anguissola painted it at the mere age of 23 (or possibly younger, as no one knows her real birth year).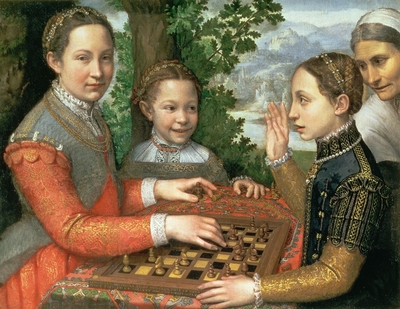 Anguissola began studying art when she was around 11 with Bernardino Campi and later with Bernardino Gatti, both well-respected painters. Her gender prevented her from training in their studios with male students, forcing her to learn from them privately—which may have encouraged her adventurous spirit. Her gender also precluded the sketching of live studio models, so she turned to what she knew best—herself, painting at least a dozen self-portraits at a time when that was uncommon, and her family, which included five sisters and one brother.
"The Chess Game" is a combination of family portrait, genre painting and landscape. Cited by scholars as among the first Italian paintings of everyday family life, Anguissola nevertheless conjured it all, using unrelated sketches she had made. The painting catches three of her sisters and their maid at a surprising moment, and the interplay among them is an example of Anguissola's gift for telegraphing her subjects' character and state of mind in their appearances and facial expressions.
Two girls in "The Chess Game" are engaged in a match, a pastime of the cultural elite more usually associated with men and boys—signaling that girls, too, are intelligent. The eldest, Lucia, on the left, has snatched a pawn, startling her younger opponent, Minerva, who raises her right hand as if to halt the move. The youngest of them, Europa, gleefully surveys the scene, while on the far right the maid keeps a watchful gaze.
The girls are dressed in fancy gowns, laced with raised gold threads: They are too formal for chess at home, but they reinforce the girls' noble background, as do their gold jewelry and pearls. Their garb contrasts sharply with the plain black-and-white clothes worn by the maid. The girls' youthful faces—especially seen in the chubby cheeks of the youngest one—also differ from the drawn, adult face of the maid.
Then Anguissola goes deeper, capturing their psychological state, especially—here and in so many of her paintings—in the expressive way she paints eyes. Lucia makes direct contact with the viewer, showing her confidence and conviction, but not superiority. Steely-eyed Minerva is more than stunned; looking directly at Lucia, she's nonplused. Standing close to Lucia, Europa eyes Minerva with a broad smile, perhaps pleased that her big sister has won the game, perhaps to taunt Minerva? One can almost hear her giggle. The maid, one step back, trains her serious eyes on the game board, ensuring that the play was fair. On seeing this painting in 1566, Giorgio Vasari wrote that "the figures wanted only voice to be alive."
Anguissola's fresh family portrait is also full of anomalies that trumpet her talents. It is set in the garden of their home, perhaps an unlikely spot for girls to be playing chess but an innovative way to incorporate a landscape. In the distant background is a mountainous scene that bears no relation to the area near her home in Cremona, where this artwork was created, but which adds to the depth in the painting already apparent in the shoreline below the garden. She suggests texture, not only in the embroidered gowns but also in the craggy tree trunk and the pile of the carpet under the game board. Everything, of course, is painted meticulously—an Anguissola trademark.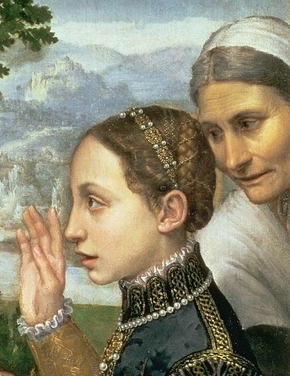 Anguissola achieved renown in Cremona, including praise from Michelangelo. About four years after finishing "The Chess Game," she was called to the Spanish court, where she was officially a lady-in-waiting but also asked to paint (her formal appointment, some scholars believe, was a means of surmounting court tradition favoring male artists). She later returned to Italy, continuing to paint until her eyesight failed. Just months before she died, Anthony Van Dyck visited her in Palermo. He wrote fondly of learning from her, called her "a miraculous painter from life," and painted her portrait. (That work, too, is in the Prado exhibition.)
Like other early women artists, however, Anguissola soon suffered from neglect, and many of her works were attributed to Titian and Moroni, among others. It was only in the 20th century that scholars resurrected her and reclaimed paintings for her.
Over the centuries, "The Chess Game" passed through several collections in Italy, France and England, then found a home at the National Museum in Poznań, Poland, to which it will return when the Prado show closes. It is perhaps the best, but far from the only, reason that Anguissola deserves our attention and admiration.