New York
Don't be fooled by "Dance in Tehuantepec" (1928), Diego Rivera's colorful, seductive painting of a folk custom that opens "Vida Americana: Mexican Muralists Remake American Art, 1925-1945" at the Whitney Museum of American Art.
It beckons visitors into a gallery of artworks that, following the end of the bloody Mexican revolution in 1920, romanticized the country's indigenous peoples and their culture. Americans like Paul Strand and Edward Weston, whose visits to Mexico are well documented, followed their lead, and their works here seem familiar. Other pieces, by less-known artists from north of the Rio Grande, such as "Women With Cactus" (1928) by Everett Gee Jackson and "Women of Oaxaca" (1927) by Henrietta Shore, are vibrant and charming, but seem only to imitate Mexican artists.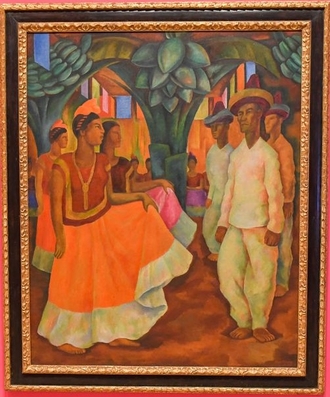 "Dance in Tehuantepec"
The real thesis of "Vida Americana" is more interesting, more enlightening and more haunting. By 1922, Rivera, David Alfaro Siqueiros and José Clemente Orozco, among other Mexicans, were turning away from such uplifting "aristocratic" art toward public, monumental art intended to address social injustices and rally the masses. Mexican muralism was born—and "
los tres grandes
" began creating politically potent vistas like those that decorate the Palacio de Bellas Artes in Mexico City.
Soon enough, each one came to work in the U.S., affecting the imagery, style, process and purpose of art here more deeply and broadly than previously acknowledged, "Vida Americana" argues. It aims to add a chapter to American art history between the early 20th century prominence of European-inspired modernism and the postwar dominance of Abstract Expressionism. It shows that these Mexicans, and others, influenced artists ranging from Jacob Lawrence to Charles White and even, fleetingly, Isamu Noguchi and Will Barnet, who is best known for his flat, figurative domestic scenes.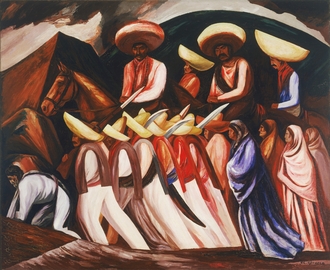 "Zapatistas"
The curatorial team, led by the Whitney's Barbara Haskell, makes its case with nearly 200 artworks, including Orozco's "Zapatistas" (1931), Siqueiros's "Revolutionary March" (1935), and two 1932 studies by Rivera for "Man at the Crossroads," the infamous mural commissioned for Rockefeller Center but destroyed because it included a visage of Lenin. Using large-scale photos or projections, the curators also simulate in-situ murals like Orozco's fiery "Prometheus" (1930), made for a dining hall at Pomona College; Siqueiros's "Tropical America" (1932), created for an ersatz Mexican market in Los Angeles but soon painted over because it denounced exploitation of the working class; and Rivera's "Man, Controller of the Universe" (1934), a modified version of "Crossroads" that he painted at the Palacio. Over half the works on view, though, are by Americans or artists from abroad who had moved to the U.S.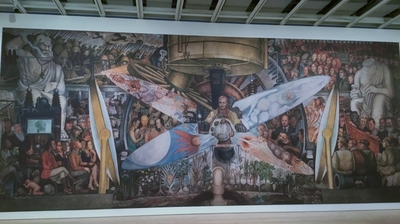 "Man, Controller of the Universe"
The Mexicans arrived at the right time, on the cusp of the grim 1930s. Americans were already re-examining their lives and nation during the Great Depression, and artists hardly needed much push to take up social themes. Moreover, the differences among the Mexicans—raw and radical Siqueiros; dark, expressionistic Orozco; bold but lighter-toned Rivera—offered the Americans many avenues for reaction and response.
At one end of the spectrum is Jackson Pollock, who saw Orozco's works while just a high schooler and later participated in Siqueiros's "Experimental Workshop." He took up their expressive brushwork and discordant themes in works like "Untitled (Naked Man with Knife)" (1938-40) and "The Flame" (1934-38), and helped lay the groundwork for his still-to-come, rhythmic drip paintings with works like "Composition With Flames" (1936).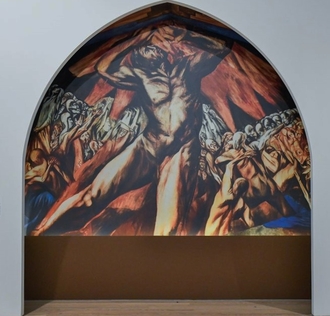 "Prometheus"
At the other, perhaps, is Aaron Douglas, represented here with "Into Bondage" and "Aspiration," the two extant panels, of four, he created for the Texas Centennial Exposition in 1936. Douglas was painting black history, from the nation's dependence on slaves to their rise through education to hope for a better future, and he synthesized many styles—African, Egyptian, art deco, Cubism—into something uniquely his. What he took from the Mexican muralists was their narrative format and use of art as an activist platform.
In between are artists including Philip Guston, whose dense, dystopian "Bombardment" (1937-38) captures the nightmare wreaked on humans by a bomb explosion, a reference to Spanish Civil War atrocities. Bendor Mark's "Execution" (1940) also portrays man's brutality, taking up some of the thick brushstrokes used by Siqueiros in "Revolutionary March" and Orozco in "The Unemployed" (c. 1929). Among many strong images, two others stand out, both empathetic comments on suffering and labor: Eitarō Ishigaki's "The Bonus March" (1932) and Marion Greenwood's "Construction Worker" (1940).
And many other artists owe something else to the Mexicans, according to the catalog. Inspired by Mexican government programs for artists, the American artist George Biddle in 1933 wrote to his friend Franklin Delano Roosevelt, telling him that the Mexicans had created their murals only because they were paid wages to express their ideas in government buildings. Roosevelt's administration soon started several programs that hired artists for thousands of public art projects. But unless you habituate post offices, colleges or small museums, you will be unfamiliar with many splendid narrative works (shown here in sketches, studies, cartoons) by artists like William Gropper, Mitchell Siporin, Hale Woodruff, Henry Bernstein, Michael Lenson, Fletcher Martin and Anton Refregier.
You might ask, who are all these artists?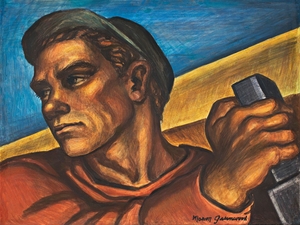 "Construction Worker"
Discovery is a joy of this exhibition. Many artists whose works are on view have faded from our attention, if they ever had it. It's fair to note that the Whitney itself did not collect much of this art: Almost none of the works in "Vida Americana" belong to the museum. That so many great artists of the period who are in the Whitney's collection— Georgia O'Keeffe, Edward Hopper, Stuart Davis, Charles Sheeler and Marsden Hartley, to name a few—were seemingly unmoved by the Mexicans is a reminder that their influence went only so far.
Still, to draw on the pop song, changes in latitudes do change attitudes—and after "Vida Americana" the history of American art doesn't remain quite the same.