Another exhibition has fallen victim to the Covid-19 virus. Last Supper in Pompeii: From the Table to the Grave, set to open 18 April and run until 30 August at the Legion of Honor of the Fine Arts Museums of San Francisco, has been postponed because shipment of key loans were halted by Italy's nationwide lockdown.
Bacchus--stuck in Italy
The exhibition was the Legion's most important one this year, consisting of more than 300 works of art, from frescoes to sculptures and mosaics, from precious objects and household furnishings and even including a loaf of carbonised bread. Although the show originated at the Ashmolean Museum in Oxford, where it closed on 12 January, it had been reworked for its display at the Legion, cutting out sections on the Pre-Roman/Etruscan periods and Roman Britain and expanding the works from Pompeii.
"While the safety and well-being of the population of Italy is what is on our minds at the moment, we remain positive about bringing the exhibition to San Francisco at a later date," the museum's director, Thomas P. Campbell, says in a statement to The Art Newspaper.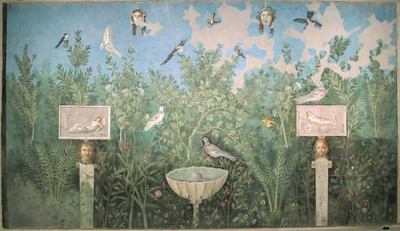 Garden Fresco
With tickets priced at $28, versus $15 for general admission to the museum, the postponement will like hurt financially, Campbell acknowledged: "Lacking a substantial endowment, the Fine Arts Museums of San Francisco currently rely heavily on exhibition revenue." However, he added, "we remain confident that we will weather this storm." The Fine Arts Museums joined San Francisco's three other major art museums today in announcing that they would close until at least 31 March because of the Covid-19 pandemic.
The museum is hoping that the show can be presented "later this spring," once travel restrictions are lifted, but acknowledged that no one knows when that might be. For now, nothing additional is planned for the museum's special exhibitions galleries. "We are hoping for just a slight delay," a spokeswoman says.
The museum adds it will consider other exhibition possibilities "if this goes beyond late spring". The next major show, which has not yet been announced, is about Rembrandt and was scheduled to begin in October.