Little is known about the early years and training of Jan van Eyck (c. 1390-1441). Yet he emerged in early 15th-century Northern Europe as a colossus, defining artistic perfection with his luminous, incredibly detailed, naturalistic pictures. When his name first definitively appeared in a document, dated 1422, he was identified as a "master"; today, he'd also be called a disrupter. Many art historians revere him as the greatest painter of all time.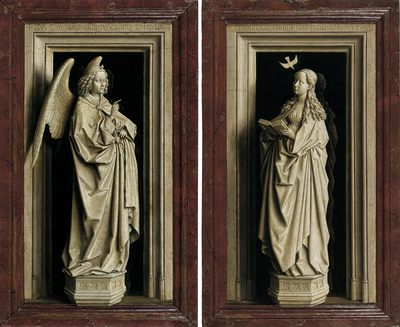 Annunciation Diptych
Visitors to "Van Eyck: An Optical Revolution" at the Museum of Fine Arts Ghent will not need to be persuaded of his genius. Even though it lacks Van Eyck's two greatest surviving works—the interior panels of the Ghent Altarpiece (1432) in nearby St. Bavo's Cathedral and "Portrait of Giovanni (?) Arnolfini and his Wife" (1434) at the National Gallery, London—the exhibition is sublime. Not flawless, but awe-inspiring nonetheless.
This unprecedented exhibit presents 10 panels from the altarpiece, hung in pairs, plus 13 of Van Eyck's other 22 recognized works. They are accompanied by more than 100 other artworks from his workshop, by followers like Petrus Christus and Quinten Metsys, and by contemporaries in Italy. Some are exquisite gems—for example, Masaccio's "The Virgin and Child" (1426) and the Doria Pamphilj Diptych by Gerard David and Jan Gossart, "Madonna in a Church" and "Antonio Siciliano and St. Anthony" (c. 1510–15).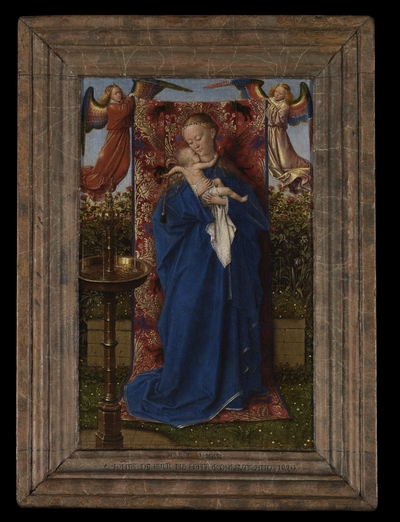 The Madonna at the Fountain
But Van Eyck's paintings are, quite plainly, "new" and different from them because—the curators assert—he was thrice-gifted: He possessed extraordinary powers of observation, exceptional hand-eye coordination, and deep understanding of the reflection and refraction of light. Equally important, he "perfected" the use of oil paints: By adding a drying agent that made his mixtures more manageable, he could better manipulate and layer his paints and glazes. Consequently, Van Eyck portrayed a variety of surfaces, materials, textures and details more brilliantly and precisely than ever before.
Simply put, Van Eyck created illusions that seem more real than reality, that go beyond truth to verisimilitude.
Examples abound, perhaps none as crystal-clear as his grisaille "Annunciation Diptych: Archangel Gabriel and The Virgin" (c. 1435). The figures, painted in white against a glossy black background, appear as tangible, three-dimensional alabaster sculptures, with curly hair and deeply draped robes, set in stone niches that are inscribed with Scripture and framed in marble. Gabriel's right wing and Mary's book, especially, protrude toward viewers, while light from the right casts shadows that accentuate the figures' volume. Yet the dove of the Holy Spirit, far from being static, seems to be in flight above Mary.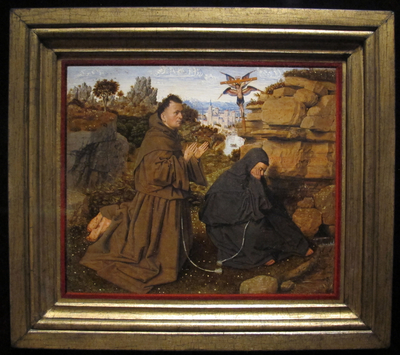 St. Francis Receiving the Stigmata
Van Eyck accomplished similar effects in color in his most revered work, the Ghent altarpiece, which was commissioned in 1420, designed and begun by Hubert van Eyck, Jan's older brother, who died in 1426, and completed by Jan. Most of it, alas, remains in St. Bavo's in a dim, perpetually crowded chamber, protected by a see-through barrier that keeps visitors several feet away. The setting allows general appreciation of this masterpiece—made more stunning by an still unfinished project to remove extensive overpainting and varnish that muted its brilliant greens, blues, reds and whites—but makes the details imperceptible. The restoration of the main panel revealed, among other things, the original human-like facial features of the mystical Lamb of God, particularly his eyes, but you have to take that on faith or from images in news reports.
In contrast, visitors to "Van Eyck: An Optical Revolution" may stand within inches of the panels (which will return to St. Bavo's in May) and other works. They can see for themselves not just the individual hairs and raised veins of his monumental, fleshy Adam and Eve, for example, but also the ray of light refracted through a water flask in the background of the Mary panel.
In his portraits, Van Eyck also painted what he saw, not idealized versions of his subjects, as did his Italian contemporaries. He lays bare scars, blemishes, sagging skin and stubble, as well as the glint of the sun on the golden ring in "Portrait of Jan de Leeuw" (1436) and the insignia of the Order of the Golden Fleece in "Portrait of Baudouin de Lannoy" (c. 1435).
Even more remarkable displays of Van Eyck's mastery of minutiae and illusionistic realism are evident in "St. Francis of Assisi Receiving the Stigmata" (c. 1440). It shows Francis kneeling in a rocky landscape so accurate that geologists have discerned fossils and dated the rocks to the late Paleozoic era. Beyond them are a city, a lake, a winding river, a ship and then—miles away—a snowy mountain range. The painting measures 5 inches by 5 ¾ inches.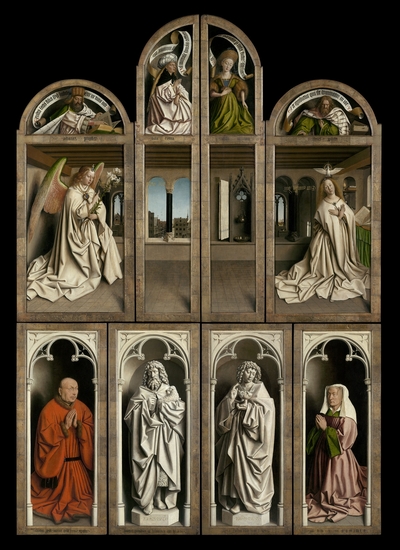 Exterior panels, the Ghent Altarpiece
Among the most magical works on view is the tender, highly detailed "The Madonna at the Fountain" (1439). Van Eyck places his Mary, dressed in a beautifully draped deep-blue robe, in a rose garden. She stands against a red brocaded cloth held in place by angels with rainbow wings. To her right is a bronze fountain of life, glistening in the sun. This work, too, is tiny, just under 7 ½ inches by 5 inches.
This intimate painting inspired many copies, like the adjacent one attributed to Van Eyck and his workshop. But the copy lacks crispness, dazzle, the hand of a master throughout. It also alludes to the exhibition's one fault: It seems a bit padded with works that are not by Van Eyck, no doubt to disperse crowds privileged to visit its 13 galleries.
That doesn't mar the rarefied experience of seeing so many of Van Eyck's works in one place. The exhibition illustrates exactly why he was probably the first Flemish artist to sign his works. With such talent, who wouldn't take credit?
Editors' Note: Though the exhibition is closed until April 5, zoomable images of most of the works discussed here can be found at closertovaneyck.kikirpa.be and on the Van Eyck page of the Google Art Project.