If, to borrow a phrase, the past is a foreign country, this moment—when real journeys are curtailed—is a good occasion to time-travel to historic houses. The U.S. has a roster going far beyond familiar names like the Biltmore Estate, Hearst Castle and Winterthur. Many are easily explored online, yielding fascinating micro-histories and peeks at varied aesthetic taste.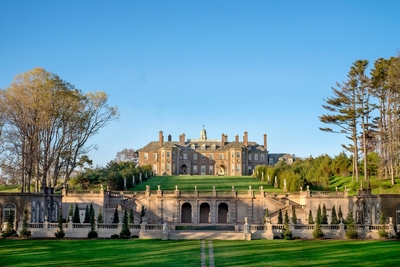 Castle Hill
Located on the banks of the Patuxent River in Hollywood, Md.,
Sotterley
epitomizes an 18th-century tobacco plantation. Its clapboard manor house, which grew from two rooms built circa 1703 by a colonist named James Bowles, boasts mid-18th-century woodwork, particularly in the drawing room and on the staircase, that the Maryland Historic Trust deems "among the finest pre-Revolutionary woodwork in the southern colonies." In stark contrast, there's also a one-room slave cabin. Sotterley's history is outlined in
a video on its website,
revealing, among other things, that an owner's son fought for the Confederacy at the Battle of Petersburg against an escaped slave who joined the Union Army, and that Herbert Satterlee and his wife, J.P. Morgan's daughter Louisa, purchased Sotterley in 1910. The grounds, with their colonial revival gardens, appear on YouTube, including this recent look titled
"Sotterley Plantation | Maryland";
the house interior is shown in black-and-white
photographs at the Library of Congress
that are accessible online.
Just before the Civil War, a fine Italian Villa-style home, now called Victoria Mansion, was rising in Portland, Maine, for Ruggles Sylvester Morse, a hotel magnate. Its boxy exterior, completed in 1860, looks stodgy, but the interior! Unveiled in an introductory video on the mansion's website, it's a confection of hand-painted trompe l'oeil walls and ceilings; enormous mirrors; a grand staircase; gaslights; and richly carved, inlaid furniture. It is the only extant interior created by Gustave Herter, who co-founded the famed Herter Brothers design firm, which counted the Vanderbilts and Theodore Roosevelt's White House as clients. Herter's handiwork can be seen in two short videos on the mansion's YouTube channel.
Glessner House
The work of another famous designer—architect Henry Hobson Richardson—is on view at Glessner House in Chicago. Completed in 1887, this Romanesque home has a fortress-like appearance, with deep-set front windows and a rough granite-block façade. It's not as opulent as most Gilded Age mansions (John Glessner was merely a partner in a farm equipment firm), as you'll see in
an introductory video
on the home's
YouTube channel
and
the virtual tour on its website.
Still, it has enchanting features, like the wood-paneled main hall, bay-windowed dining room and beamed-ceiling library, plus English and American arts-and-crafts objects. Glessner House recently started two YouTube series—on its secrets (such as
a hidden passage
) and on its sounds (like
the servants' call system
).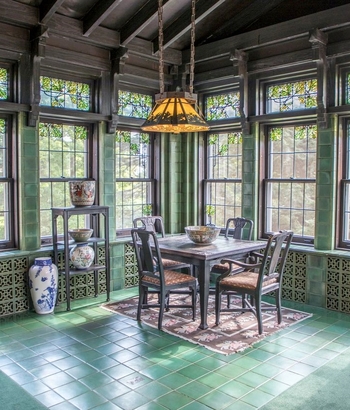 Breakfast Room, Glensheen
the shores of Lake Superior, in Duluth, Minn.,
Glensheen,
a Jacobean Revival mansion with 39 rooms, provides a window on North Country wealth. Completed in 1908 for an iron-ore tycoon named Chester Congdon, the interior is an eclectic mélange, with lots of carved wood, including cypress and mahogany, brickwork, and a delightful breakfast room, made of handmade tiles and stained glass windows.
A six-minute video on YouTube by Life to the Max TV
provides a good overview, and a one-hour Duluth public television special,
also on YouTube,
digs deep into Glensheen's history, design and life.
South of San Francisco, in Woodside, Calif., sits Filoli, a glamorous 56-room Georgian Revival country estate with 16 acres of formal gardens that was built in 1915-17 from the gold rush and gas fortune of William Bowers Bourn II. Filoli's YouTube channel presents a 21-minute video detailing its history and design, including its hand-painted ballroom wall panels, period light fixtures, sumptuous fabrics and an ornate marble mantelpiece. There's a passage on "the drunks dinner," a formal affair celebrating the end of Prohibition—also detailed in a 50-minute video on Filoli's YouTube channel, one of several extended histories there. YouTube has many videos of the gardens, yet few of the house interior. You may not need much more, as TV's long-running "Dynasty" series from the 1980s was filmed there, and the Library of Congress has black-and-white photos online.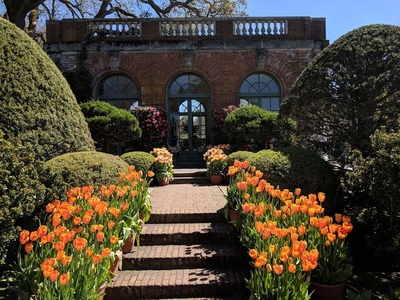 Filoli
year before the stock market crashed in 1929, Chicago industrialist Richard T. Crane Jr. erected his spectacular, 59-room Stuart-style "summer getaway" mansion,
Castle Hill,
on 2,100 acres in Ipswich, Mass. Its most stunning feature is a half-mile-long "Grand Allée" grass mall that rolls from the portico down to the sea, clearly visible in
a WGBH YouTube video.
For the inside, Crane raided an English country home and an 18th-century London townhouse, shipping paneled rooms, elaborate moldings, parquet floors, and a library with ornamental carvings by the 18th-century sculptor Grinling Gibbons across the Atlantic. You can see them, and more, in
photographs published in 2018 by Architectural Digest
and on a
Big Old Houses blog post written in 2014
by the architectural historian John Foreman. If you don't mind kitsch—an actor as the butler escorting you around—go to
Pixiecropolis on YouTube
for a half-hour visit.
Virtual visits are never as good as the real thing, of course, but they may entice you to add more historic homes to your travel agenda. Many, including all those mentioned here except Victoria Mansion, are reopening and, barring a nationwide resurgence of the coronavirus pandemic, others can't be far behind.