From the moment "The Blue Boy" made its debut at London's Royal Academy in 1770, it has always been a sensation. Scholars and critics have called it "the world's most beautiful picture" and deemed it the career "apogee" of Thomas Gainsborough, one of England's greatest 18th-century painters. When the painting went on view in January 1922, after the Duke of Westminster sold it to art dealer Joseph Duveen, who resold it to the American Henry E. Huntington, "great crowds almost stormed" the National Gallery in London for a last look, according to contemporary accounts; some 90,000 people visited it during its three-week exhibition there.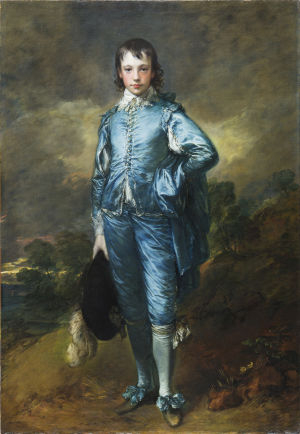 Next Jan. 25, exactly 100 years later, "The Blue Boy" will again be shown at the National Gallery, on loan (until May 15, 2022) for the first time ever from the Huntington Library, Art Museum and Botanical Gardens in San Marino, Calif., which the railroad and real-estate magnate created as a public institution in 1919. Many people go there only to see "The Blue Boy," which hangs in a place of honor in a large gallery devoted to British Grand Manner portraits.
Gainsborough (1727-1788) had, of course, gained fame as a portraitist. He revealed his talent as a child. At age 13, he was sent to London from his family home in Sudbury, Suffolk, to train as an artist. By 19, he was back in Sudbury, earning a living making portraits, and when that market was sated, he moved to Ipswich, where he also painted the area's local squires and rich merchants, usually in half-length or small format. Then it was on to Bath, where he earned a reputation for his life-size, full-length portraits, especially of fashionable females, and to London, where he became the favorite painter of George III.
"The Blue Boy" is both emblematic of his bold, elegant style and a little different from his other portraits—in fact, it may not be a real portrait at all. Although it was titled "Portrait of a Young Gentleman" in the 1770 exhibition, the sitter, a boy in early adolescence, has never been identified. He was once thought to be Jonathan Buttall, the painting's first owner, with whom Gainsborough shared a love of music, but that theory has faded. Some scholars believe it may depict a nephew of Gainsborough's, while others think it could be a "fancy picture"—an inventive, imaginative work designed to demonstrate Gainsborough's painterly prowess to potential patrons.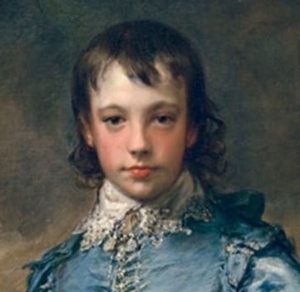 Detail: His Youthful Face
The painting certainly does that. Gainsborough portrays his teenager looking directly at the viewer. With his left leg slightly ahead of his right, shifting his body into a little swagger, his left arm akimbo and his right hand holding a plumed hat, the boy appears relaxed and confident. Yet his pink-cheeked face, with its traces of baby fat and slightly pursed lips, suggests just a tinge of ambiguity—and poignancy.
What makes the painting dazzle viewers even more is, of course, the boy's costume. In Bath, Gainsborough had seen the works of Anthony Van Dyck, the leading court portraitist in 17th-century England, in the country houses of his clients. After studying and occasionally copying them, he began to use the sumptuous apparel worn by Van Dyck's aristocratic subjects as inspiration for his own works, even keeping such garments in his studio for sitters. "The Blue Boy," according to Melinda McCurdy, the Huntington's curator of British art, is "likely his first attempt at full-length Van Dyck dress," which would become integral to his style.
Here, in a lustrous, steely shade of blue satin, the boy wears knee breeches and a fitted jacket with slashed sleeves, open at the waist to reveal his white shirt. His tights are a lighter shade of blue, and his white lace collar is fastened tightly, meeting his curly brown hair. His shoes and his garters are tied with bows.
To achieve the satin shimmer, Gainsborough deployed many hues, from indigo, lapis, cobalt and slate to turquoise, charcoal and cream, and he applied paint in both rapid, full brushstrokes and fine, delicate ones, layered one over the other. He also added in transparent glazes. Then he topped off the costume with thick, impasto touches of gleaming silver paint on the buttons, the jacket's piping and the trim on the lace and bows.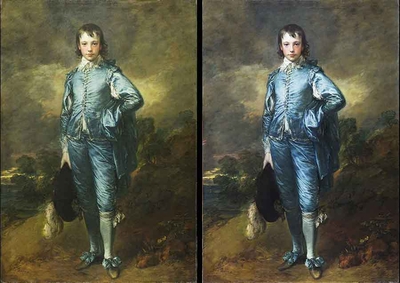 Before and After His Recent Conservation
"The Blue Boy" stands at the foot of a hill, a sunset visible through trees in the background. Clouds have gathered, and a storm may be brewing, setting a moody—some have said dreamy—tone. Initially, Gainsborough painted a small dog in the lower right corner, but he wisely saw that it not only distracted from his boy but also changed the tenor of the painting.
Gainsborough's brushwork has been called erratic—but also virtuosic. Even Sir Joshua Reynolds, his biggest rival, once remarked that Gainsborough's "odd scratches and marks . . . by a kind of magic, at a certain distance . . . seem to drop into their proper places," creating a brilliant whole.
For Gainsborough, the success of "The Blue Boy," whose renown long ago seeped into pop culture, must have carried some irony. Gainsborough actually preferred painting landscapes of the English countryside to portraits. But he had a hard time selling them, and they fetched lower prices. "The Blue Boy," on the other hand, became priceless.