Waterville, Maine
You can't talk about Bob Thompson, a mid-20th-century Black figurative artist, without mentioning the blazing colors of his paintings. Bright reds, blues, greens and yellows are almost everywhere. When, in 1998, the Whitney Museum gave him a retrospective, curator Thelma Golden, now the director of the Studio Museum in Harlem, flaunted the pervasiveness of his intense hues by hanging his works on walls painted in brilliant yellow or red—an unprecedented, much-remarked, winning move at a time when no one else dared to challenge the ubiquity of the white-walled galleries that still prevail in modern art museums.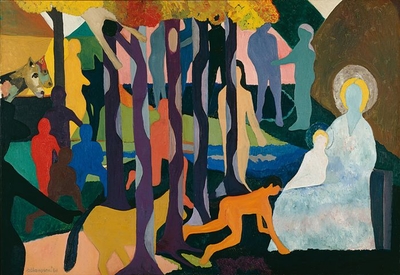 "Blue Madonna"
Yet one of the most affecting paintings in an 85-painting survey of his work, "Bob Thompson: This House Is Mine," curated by Diana Tuite at the Colby College Museum of Art, is almost entirely black, gray and white: "The Funeral of Jan Müller " (1958) is a paean to an artist Thompson (1937-1966) never met, but whose expressionistic style helped Thompson define his own approach to art. Made early in his brief career, this sorrowful depiction of loss—mourners surrounding not a body but an empty space—makes clear that Thompson had no need to rely on color to create successful images.
The painting also provides a fitting introduction to Thompson. All these decades after his death following complications from a gall bladder operation (worsened, reports say, by his heroin abuse), he remains an enigmatic artist. Born to middle-class Black parents in Kentucky, Thompson dropped out of a pre-med course at Boston University to study studio art at the University of Louisville, but never graduated, instead plunging into art, jazz and literary circles first in Provincetown, Mass., and then in New York.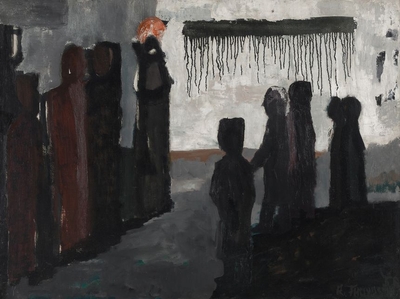 "The Funeral of Jan Müller"
Still, he generally diverged from prevailing art practices of his peers. He chose figuration, ignoring their fealty to abstraction; drew inspiration from Renaissance and Baroque artists including Piero della Francesca, Fra Angelico, Francisco Goya and Nicolas Poussin rather than modernists; adopted the colors of Fauve landscapists and German Expressionists of the early 20th century; and frequently took up religious themes, often adding racial allusions. By age 22 Thompson had his first solo exhibition. Before long, his work was shown by prestigious galleries like Zabriskie, Martha Jackson and Paula Cooper in New York, Richard Gray in Chicago and Donald Morris in Detroit.
Perhaps a look at "Blue Madonna" (1961) explains one reason. It positions an ethereal blue Mary, with Jesus on her lap, on the far right, at the edge of a forest. Through a thicket of dappled trees, male and female figures in various colors and interactions are silhouetted against what may be an idyllic pink sky. To the far left are two horses, recalling nativity scenes, and on the edge is a black, hatted figure, which some have interpreted to be Thompson himself. "Blue Madonna" is one of Thompson's most incandescent yet mysterious images.
It stands in stark contrast to another part of Thompson's oeuvre. In works like "Black Monster" and "The Hanging," large, ambitious paintings made in 1959, he takes up the subject of interracial sex and racial violence in Jim Crow America. These are ghastly images, brutally commenting on a very personal subject: Thompson would marry a white woman the next year. While "Black Monster" depicts a large beast menacing naked white women, "The Hanging" portrays a white female victim swinging far off in the distance with a second, dark figure nearby, also set to be hanged—perhaps. Onlookers, placed amid dark green trees, occupy most of the painting. Thompson frequently deploys spectators (including, scholars have suggested, himself) to bear witness to his scenes. But you will want to look away, even though Thompson's flat figures, rendered mostly in outline, prevent his works from being gory.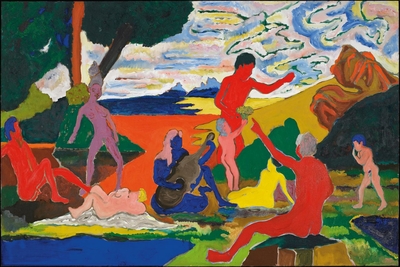 "Homage to Nina Simone"
If anything, "The Execution" (1961) is more horrific. It features a blindfolded lynching victim hanging from a tree and, nearby, a machete-wielding man who has severed the heads of three figures. This work illuminates Thompson's redrafting of Old Master paintings to reflect racial anxieties: As a wall label states, "The Execution" is "loosely based" on an altarpiece by Fra Angelico owned by the Louvre, specifically a panel showing the martyrdom of SS Cosmas and Damian. Thompson closely borrowed the structure of that work, then heightened the tension with his intense colors.
Thompson ran through many other subjects. He made portraits of himself and friends like the artist Red Grooms and writer LeRoi Jones (who later went by Amiri Baraka ). He created musical tributes to jazzman Ornette Coleman and singer Nina Simone, among others. He painted works depicting mythological subjects like the Judgment of Paris and Narcissus and Echo. He "riffed" on many canonical works, including Goya's famed "Los Caprichos" series about vice. He referred to popular culture, as in a watercolor citing the popular 1956 French film "The Red Balloon." He tried pastoral pieces like "Five Cows With Blue Nude" (1965).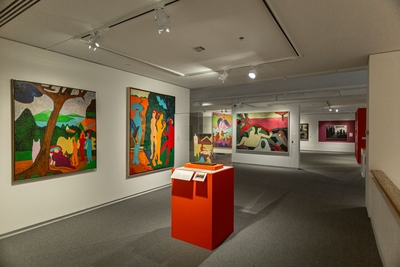 Installation View
That, in the end, is a bit of a problem. Thompson tried so many things—and so very fast. He left behind more than a thousand paintings. Even in this sampling his compositions sometimes seem a little clumsy, his brushwork sloppy, his intent elusive. And yet, as he neared his 29th birthday—and death—this young talent seemed to be on the verge of something new, maybe something big.