It's been years since Renée Fleming etched an indelible imprint on the hearts and minds of opera-lovers and became "the people's diva." With her celestial soprano voice, glamorous beauty and even temper, she's perpetually in demand.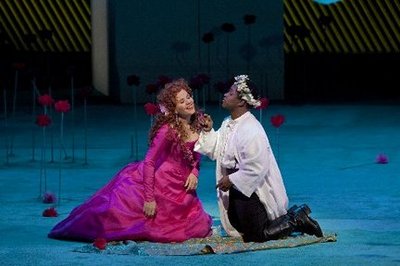 Ken Howard/Metropolitan Opera
This season, she soloed on the opening night of both the New York Philharmonic and the Chicago Symphony Orchestra. "Verismo," her recording of arias by Puccini and his 19th-century contemporaries, won a Grammy in February. At her home base, the Metropolitan Opera, she starred in "Der Rosenkavalier" last fall, and is playing the vengeful sorceress in a new production of "Armida" that began Monday night. In between, there was a 17-city concert tour through Europe and North America.
If anything, last season was even more precedent-setting, as she became the first woman in the 125-year history of the Met to headline an opening-night gala. Calling it the biggest night of her professional career, she got to wondering, "How am I ever going to top this?"
So Ms. Fleming, 51 years old, is thinking strategically. "I have to focus on what I'd like to accomplish in the next 10 to 15 years," she said late one Friday afternoon, sitting at the dining table in her sunny Upper West Side penthouse apartment. Retirement is a long way away, but she wants to make the most of her years.
She can probably do whatever she wants. YouTube, music downloads and the Met's high-definition simulcasts, which she often hosts, have enlarged her global fan base. And yet she can still get the jitters. For the Philharmonic, she had learned Messiaen's "Poèmes pour Mi," a challenging 30-minute piece tailored more for dramatic sopranos than for lyric singers like Ms. Fleming. It was being broadcast live, and interest was intense because it was Alan Gilbert's debut as music director of the orchestra. "I was coming unglued in the first part of the concert" before her turn on stage, she said, eventually telling herself to "get a grip." Of course, the reviews were stupendous, with many critics taking note of the pains she took to memorize the work.
It's this unassuming charm—the undiva diva—that makes her impervious to the occasional lukewarm review, as well as approachable and open to new things, such as her first indie-rock album, "Dark Hope," to be released June 8. "Dark Hope" came about because Peter Mensch, a New York musical manager, had been wanting for years to record an opera star singing hit tunes by the likes of Leonard Cohen and the Jefferson Airplane. When he contacted Ms. Fleming, she was curious enough to meet him, even though she knew little about the music. She soon decided it would be fascinating to learn a different style of singing. (Ms. Fleming recorded jazz, which she sang in college, and pop standards in "Haunted Heart," in 2005.)
Her venture into this "parallel universe" of rock turned out to be a joy. Not only did she learn to reach into the lower ranges of her voice, producing an earthy rather than ethereal sound, but also she was able to use her sister and her two daughters as back-up singers.
But opera is her mainstay. And in the battle between those who want traditional productions and those who want to reinterpret the standards, she stands mostly with the latter. She said nothing last fall when director Luc Bondy's spare, kinky production of "Tosca" at the Met ignited a firestorm of disapproval—and won't comment now—but she offers, "I'm not a reactionary. I've loved some of [these productions] when they've been well thought out." Nor does she mind using sex and violence. "I have no problem with edgy," she added, "as long as it's not vulgar or disrespectful of the piece."
On the other hand, Ms. Fleming said that those who insist that traditional baroque opera will never appeal to young audiences are wrong. She cited her own experience as a mother of high-schoolers. "What they don't like is 'stand-and-sing' opera," she said; they want theater. Some young people, she has no doubt, want to see productions by the likes of Franco Zeffirelli, whose lavish productions have become shorthand for the opposite of contemporary taste.
Ms. Fleming has never been asked to perform in a "Regietheater" production, designed to attract with shock—and is unlikely to be. As she put it, "I have a certain image that's more classic, and I'm happy to stay out of the fray."
For Rossini's "Armida," Ms. Fleming was eager to work with Mary Zimmerman, the innovative theater director and playwright. As expected, Ms. Zimmerman delivered a modern version of the work that seemed too spare and too kitschy to some critics and audience members, but lush and humorous to others.
Ms. Fleming had not sung "Armida," except in concert, since 1993—when her appearance in Italy put her on the world map. To prepare, she started last summer to weave songs from it into her practices, concerts and encore material. The real work, though, began when production meetings and rehearsals started. "In a new production, everything affects how I sing it," she said.
"Armida" will be simulcast on May 1, and that, too, affects matters. Opera singers now play more to the cameras, less to the people in the balcony. Movements are more subtle. And, she said, "I have to stay completely focused because the camera picks up every change in focus."
Ms. Fleming credits the simulcasts for generating interest in opera. (The Met is on track to draw 2.25 million people to simulcasts for 9 operas this season, versus 1.8 million for 10 works last season.) "The only piece of the puzzle is the effect it is having on local opera companies," she said. Some have encouraged their patrons to watch in the belief that it will increase their audience base as well. "I hope it does."
Over her career, Ms. Fleming has performed more than 50 operatic roles, and she is unlikely to learn many more. Few left are suitable for her voice. In recent years, she has favored recitals, which are more lucrative. Opera "fees are fixed around the world," she explained. She receives as much as $15,000 a night; the lengthy on-site rehearsals are uncompensated. Recitals, which take less time to prepare, let her stay in New York more often during the school year. They also allow her the luxury of recreational travel, especially during the summer, when she can bring her girls along. She is eager to do more. "For years, I had no time for exploratory travel," she said, which was a sacrifice because "all of my hobbies are culturally based—art, especially 20th-century art, theater, all kinds of music. And nature, too." In tune with the travel objective, she would like to be a cultural ambassador for the U.S.
At one point during the interview Ms. Fleming said she wanted to perform at private concerts—for corporations, say —but started to explain that they are difficult to slot into a schedule booked so far in advance. "Oh, wait," she said, stopping. "This is for The Wall Street Journal, right? I would love to do more private concerts."
Then again, if sales of that indie rock record are good, who knows?